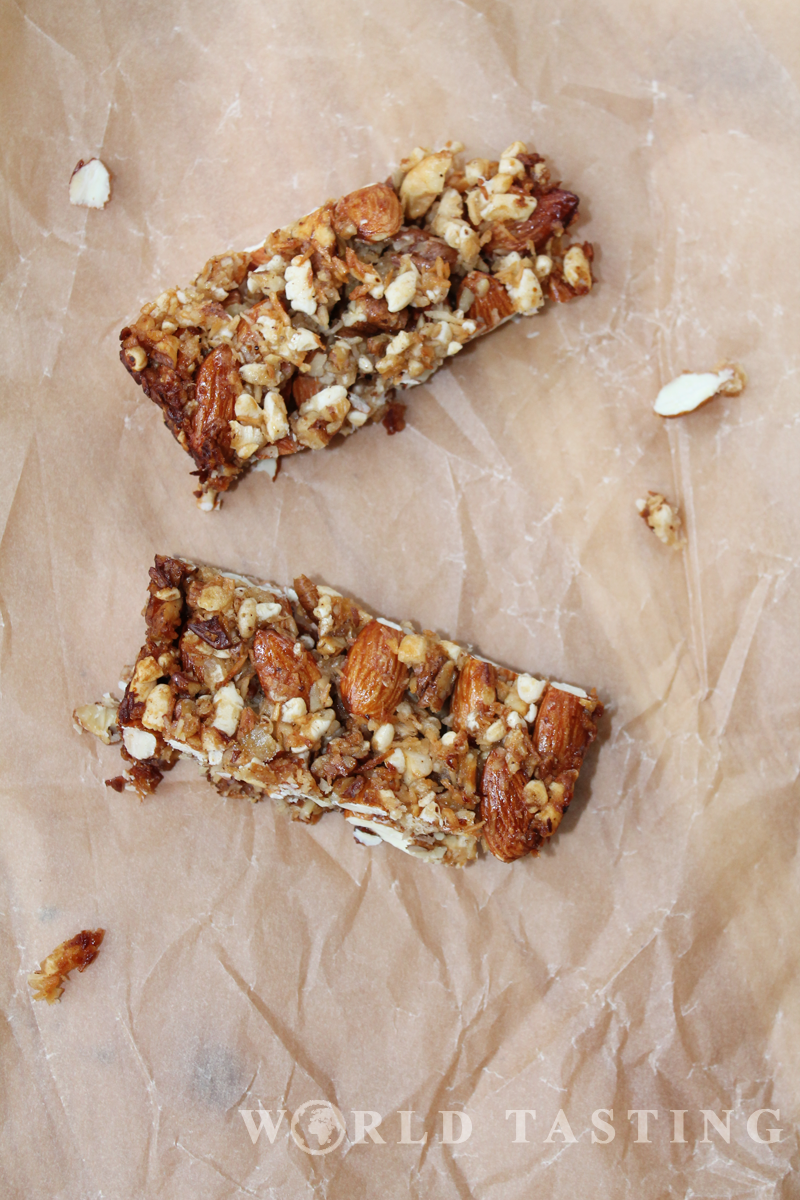 When it comes to home-made nut bars, all you need is imagination. And a couple of 'basic' ingredients. Here is my basic healthy nut bar recipe that always does the trick.
Roughly following the measures is all you need to prepare tasty nut bars right out of your kitchen. Other than that the recipe is anything else but binding. You can substitute puffed rice with organic rolled oats, you can use any nuts of your preference, add seeds or dried fruit, and even top the bars with melted chocolate. (And these are just some of your choices.)
Healthy Nut Bars
Preparation time: 15 minutes | Cooking time: 20-22 minutes | Serves: 6-8 bars
Ingredients:  
1 cup organic puffed rice
1 cup raw nut mix (pecans and cashew)
1 cup raw almonds with skin
1/2 cup dried shredded coconut
3/4 cup honey
3 Tsp freshly squeezed orange juice
Directions:
Preheat oven to 180C / 350F.
Roughly chop the puffed rice, the pecans and the cashew (either by hand or in a food blender/processor) and place them in a big bow. Add the almonds and the shredded coconut and stir well.
Place the honey and orange juice in a pot and bring them to boil. Let simmer for 3-4 minutes so that the mixture thickens, and pour to the nut mixture. Stir well until all nuts are coated with honey.
Line a baking dish with baking paper leaving flaps on all 4 sides. Transfer mixture into it. Spread mixture by pressing down to pack it in and reach all edges and corners of the pan.
Bake for 20-22 minutes in preheated oven until golden.
Remove to a wire rack. Use the parchment flaps to press the bars down and compact them before they cool all the way.
Allow to cool completely (at least for an hour) and cut into desired size.
Wrap each bar individually. Consume within a week.
Bon appetit!