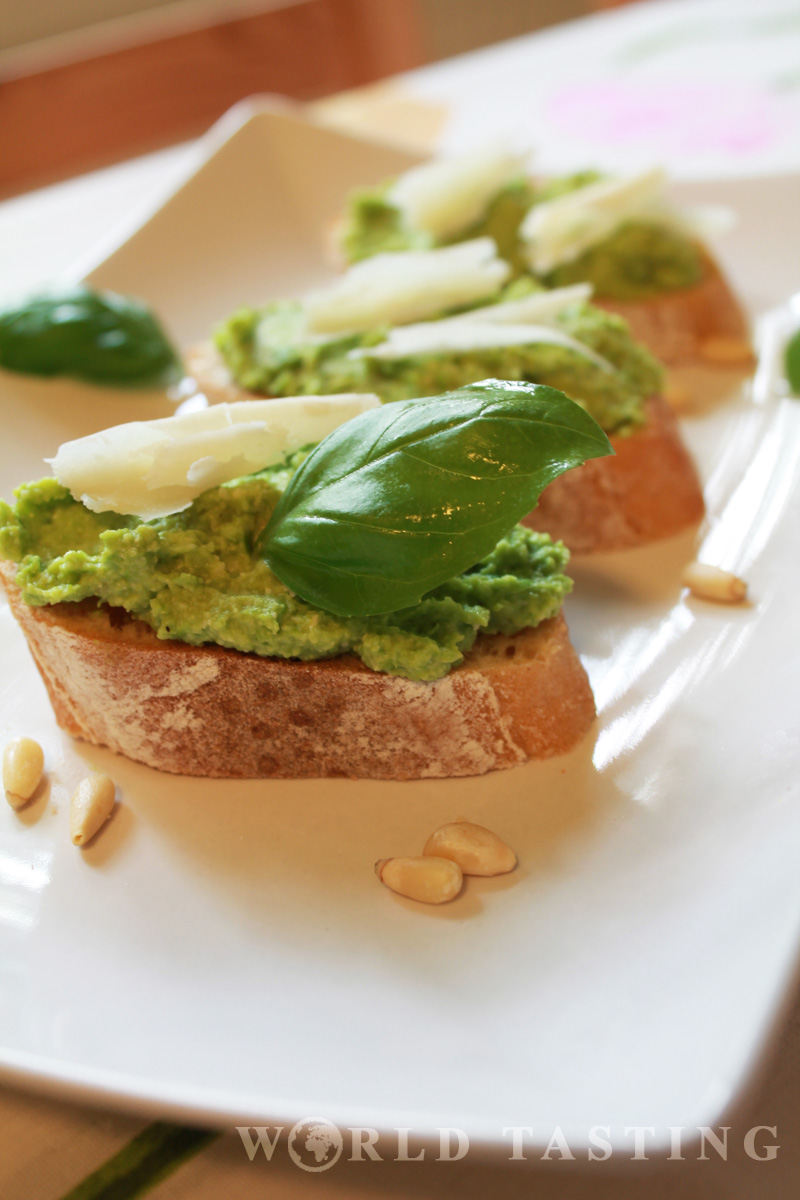 I recently served these crostini to a dinner party, and oh my, were they a success. Needless to say, the ladies were fascinated by the idea of peas pesto – light, diet-friendly, and stuffed with nutrients like iron and magnesium (in the pine nuts), calcium (in the Parmesan), and a good kick of vitamin C (in the peas). But when men started asking for extra portions of "the green sandwiches" I knew this recipe was a keeper. Should I mention that it is absolutely easy peasy?
Peas & Pine Nuts Pesto Crostini  
Preparation time: 10 minutes | Yields: approx 30 crostini
Ingredients:  
For the pesto:
500 gr frozen peas
50 gr pine nuts
50 gr grated Parmesan
1 garlic clove
3 table spoons olive oil
salt and pepper
fresh basil for decoration
For the crostini:
Directions:
Cook peas as per packet instructions in a boiling water with a pinch of salt in it. Once done, drain and let aside to cool down (or pop them in the fridge for 5 minutes).
Once cooled down, place the peas in a mixing bowl together with the pine nuts, the Parmesan cheese and the garlic clove, and mix with the help of an electrical mixer until smooth.
Add olive oil, and season with salt and pepper according to personal preferences.
Slice baguette into oval pieces of width of approximately 1 cm.
Distribute the mixture generously over each slice and decorate with extra Parmesan and a basil leave.
Bon appetit!