Leaving in Scandinavia, I have long been 'fishing' for different salmon recipes. But somehow in my kitchen the salmon always ended up either poached or grilled. Not too exciting. Until recently, when I stumbled upon these delicious salmon burgers on a recipe leaflet in a local supermarket. Truth is, I always grab those leaflets, stuff them somewhere in my purse, and when I finally dig them out of there, the season has passed and I cannot find half of the fresh ingredients. This time, however, I proactively put the leaflet into the shopping bag instead, so it was right in front of my eyes when I started unpacking home. Thus, the recipe discovery.
What you need (for 2 portions, or approx 10 mini salmon burgers):
250 gr boneless, skinless salmon fillet

1 small to medium egg

1 spoon creme fraiche

1 spoon Dijon mustard

1 chive

1 – 1.5 slices of bread

salt and black pepper

1 – 2 spoons oil for frying
Directions:
Cut the fillets in small pieces and pulse them in a food processor until roughly minced.

Chop the chives, and crumble the bread. Add all ingredients to the salmon, and continue pulsing for about a minute or until you obtain a smooth and thick mixture. (A tip: Start by just adding a single slice of bread, and if the mix still feels watery, add the rest of the bread.)
Tip out the mix and shape into mini burgers. (A tip: If too sticky, add a tiny bit of oil to your fingers, it will help reduce the stickiness. Beware not to add a lot of oil however, because you may end up with too heavy burgers. Salmon is already too oily, so a little bit goes a long way here.)

Heat the oil in a non-stick frying pan, then fry the burgers for 4-5 mins on each side, turning until crisp and cooked through.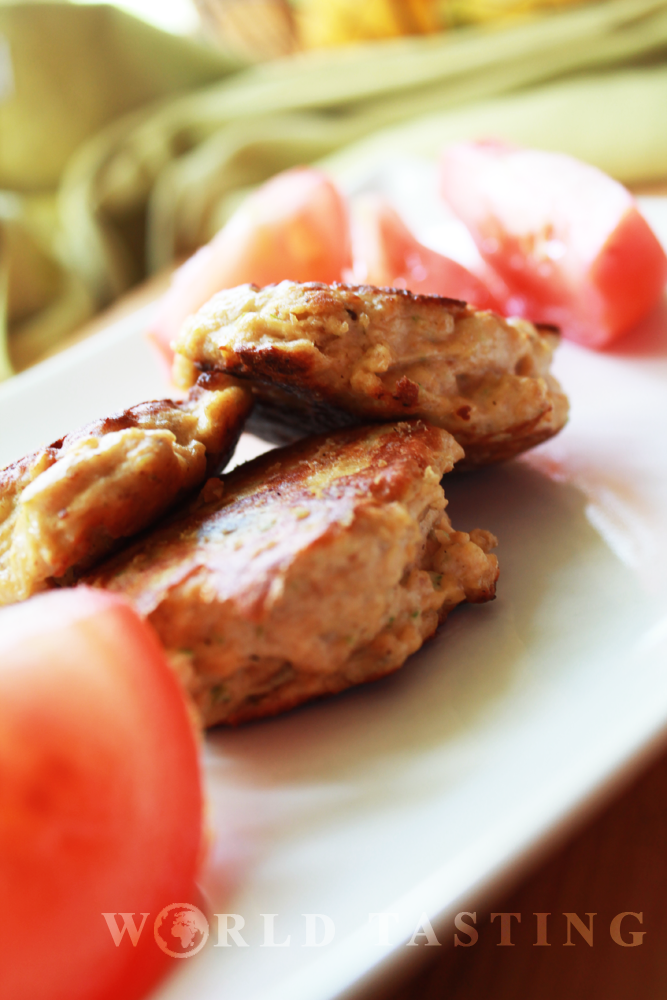 Bon appetit!